US Micro Screw Is Your Custom Small Screw Specialist.
Welcome to US Micro Screw, a leading supplier of custom manufactured micro screws and miniature fasteners. We specialize in producing custom screws, made to specification, and supply fastening solutions to some of the largest contract manufacturers, OEMs, and businesses, in the world. Our flexibility allows us to cater to a number of specialized industries including: consumer electronics, computer technologies, telecommunications, consumer products, automotive, medical instruments, industrial products, optical devices and more. We offer the widest selection of custom screw options available.
Choose one of the options below to get started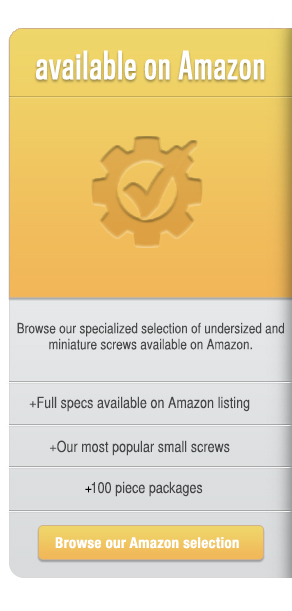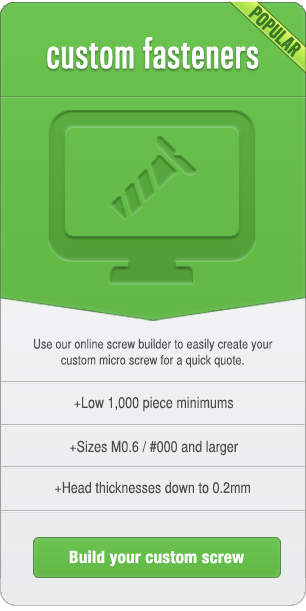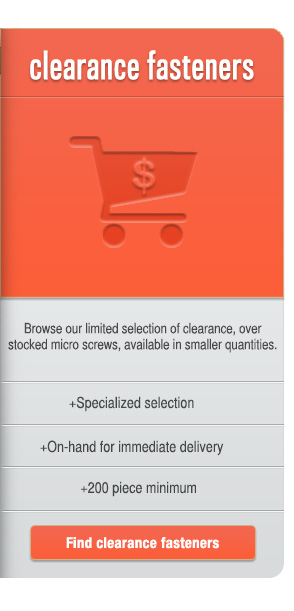 Micro Fasteners. Huge Advantages.
We at US Micro Screw pride ourselves as a leading supplier of custom manufactured micro fastening products. We offer micro machine screws and thread forming small screws from M0.6 / #000 and larger. These aren't your average screws and we aren't your average company. We pride ourselves on providing custom microscrews for even small projects, encouraging innovation in the world around us.
We operate a global network of world-class technical professionals which allows us to provide efficient and cost effective solutions for any small diameter application. Let US Micro Screw redefine your expectations of what quality service means. Your satisfaction is guaranteed.
Small screws down to M0.6 and heads as thin as 0.2mm
| | |
| --- | --- |
| ULTRA THIN HEAD CAPABILITIES | Thicknesses down to 0.2mm. |
| ALL THREAD OPTIONS | Extremely competitive pricing on plastic forming screws. |
| WIDE RANGE OF THREAD SIZES | M0.6 / #000 and larger |
| LOW MINIMUMS | 1,000 piece minimum for all orders. |
| LARGE QUANTITIES | Volume discounts. |
| SPECIALIZED MATERIAL | Aluminum, 316 & 410 stainless steel (and more). |
| ROHS COMPLIANT PLATING | Zinc, nickel, black oxide |
| CUSTOM OPTIONS | SEMs, threadlock, custom standoffs and chicago bolts. |

Our Commitment To You.
US Micro Screw offers an unparalleled approach to solving your micro fastening needs. Our fastening solutions are designed and engineered to meet or exceed industry standards with the highest level of quality available. Our entire product range is composed of only the highest quality products, made from premium materials using the most advanced manufacturing techniques available. If you have any fastening inquiries, our engineering department will be glad to help with our many custom screw options. We also offer custom bolts, stand offs, and springs, all with low order minimums. Custom screw orders of 1,000 start at a low price of just $500.
US Micro Screw is a Seattle based micro screw supplier committed to offering you the widest range of custom micro screws available in the industry today.
Thank you for your time. To get started designing your custom screw, check out our custom screw builder that makes it easy to submit a quote request for the screw that is right for you. If you have any questions or comments, don't hesitate to Contact Us – we would love to hear from you.
Custom micro screws, SEMs screws and threadlock available.
Proudly serving micro fasteners to industry leaders worldwide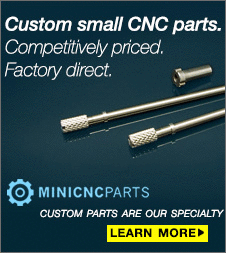 Standard head thicknesses down to 0.2mm.
Machine screws from M0.6 and #000
Thread forming screws from M0.6 and #000
Low Minimums (1000 pieces).
Rigorous testing procedures include– torque analysis, salt spray, plate testing, hardness check and plating thickness check.
Optical inspection and self locking patches are all available.